Last month I made a post about the Hoooked Eucalyps yarn and how I loved the look and feel of the yarn. I decided to make one of my bunnies with the yarn and I really like the result. For the bunny I have used the bunny pattern and for the eyes I crocheted two white eye patches with embroidered black lines.
Pattern:
Materials:
Some white and black yarn for the eyes that you can crochet with 2,5mm hook.
Stitch markers, I always use a rest piece of yarn that I place in between the stitch.
Abbreviations and symbols:
| Name stitch | Abbreviation | |
| --- | --- | --- |
| round | rnd | |
| slip stitch | slst | |
| single crochet | sc | |
| increase two stitches, crochet 2 stitches in the next stitch | incr. | |
| repeat everything between (...) x times | (...) x | |
Pattern eye patches:
The eye patches are made with white yarn and I have used a crochet needle of size 2,5mm for it.
| | | |
| --- | --- | --- |
| Rnd. 1: | 6sc in magic ring | (=6) |
| Rnd. 2: | (incr.) 6x | (=12) |
| Rnd. 3: | (1sc, incr.) 6x | (=18) |
Break yarn. Embroider now a black line between round 2 and 3. Attach the eye patches next to the nose at the side of the head.
The only thing what I experienced with the yarn is that it is difficult to make pompoms with it. The yarn exists out of multiple threads and is really soft. If I bundle the fibers, they will stay flat and you see clearly the thread with which I bundled them. Thus, I have to design another fluff tail when I crochet more bunnies with Hoooked Eucalyps yarn. For the example in the pictures I have used a rest piece wool yarn.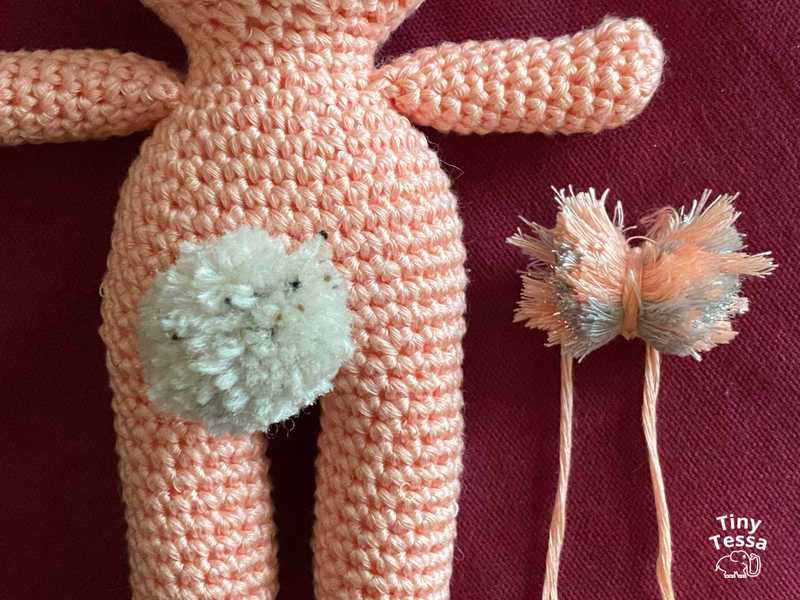 The pompom making with the eucalyps yarn